Applications through online mode are invited from the permanent residents for jobs in J&K State possessing the prescribed professional qualifications and age in accordance with the rules laid down vide SRO No.5 dated 04.01.1968 and SRO 254 of 2017 dated: 20.06.2017 as amended from time to time read with J&K Public Service Commission (Conduct of Examination) Rules, 2005 for the posts of Civil Judge (Junior Division)/ Munsiffs in the Department of Law, Justice and Parliamentary Affairs. The details of syllabus and scheme of examination is available on the website of the Commission i.e.
http://www.jkpsc.nic.in
.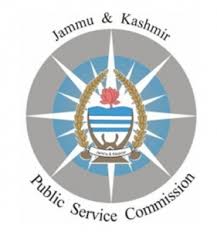 Important Dates:
a) Date of commencement for submission of online applications : 01.06.2018
b) Last date for submission of Online Applications and Fee : 31st July, 2018
Post name: Civil Judge (Junior Division)/
Munsiffs
Pay Scale: Rs. 27700-770-33090-920-40450-1080-44770
Vacancy Details:
Total Vacancy: 42 (OM- 42, RBA - 08, SC - 04, ST - 04, ALC -01 OSC - 01)
Eligibility Conditions:-
A. Qualification:-
a. A Bachelor of Laws of a University established by Law in India;
OR
b. A Barrister of England or Northern Ireland or a member of the faculty of
Advocates in Scotland or any other equivalent law degree recognized by
the Government of India.
B. Age Limit: Age as on _1st January 2018:
Minimum = 18 Years
Maximum = 35 Years
Application Fee:
General Category : Rs. 1000/=
Reserved Categories/PHC : Rs. 500/=
Scheme of the Examination:-
i. Preliminary objective type/Screening test
ii. Main Examination;
iii. Viva Voce Test; and
iv. Physical Fitness Test.
Tentative Schedule of Examinations:-
• Date of Preliminary Objective Type Test : 16 - 09- 2018
• Date of Commencement of Main Examination : Jan/ Feb - 2019
How to Apply:
i. Candidates are required to apply online through the website of the Commission i.e http://www.jkpsc.nic.in. No other means/ mode of application shall be accepted.
ii. Candidates can pay the requisite fee through online mode only in the
"SUBMITTED APPLICATIONS" menu in your account.
iii. After successful payment of the fee, the fee status will get reflected on the
Online Application form. Candidates can check the fee status by clicking on the
Print Application Button in the submitted Applications menu in your account.
In case the payment status has not been reflected on your form, candidate may
contact the JKPSC Office at Solina/Resham Ghar Colony Jammu.
iv. Hard copy of the Online Application form (having fee payment details) along
with other requisite documents are to be submitted in the office of the
Commission at Resham Ghar Colony, Bakshi Nagar Jammu/ Solina Srinagar or
through portal service in registered cover provided the said service is invoked
04 days before the cut-off dates fixed for the purpose (personal delivery).
Share