Jammu University invites online applications for various posts in non-teaching staff. The details of the posts and the category-wise breakup is given below: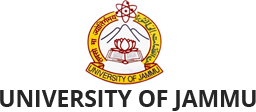 Total vacancy: 35
S. No.

Name of the post

No. of vacant

post/s

Campus Category- wise breakup

Pay Level & matrix as per 7th pay scale

1.

Curator (Botany)

01

Main Campus = 01 (UR)

Level-6 (35,400-1,12,400)

2.

Junior Assistant

31

Main Campus= 30 (DR= 15, RBA=03, SC=03 ST=03 ALC/IB=01 EWS =03, Social Caste =01, PSP=01), Poonch Campus = 01 (UR)

Level-4 (25500-81100)

3.

Telephone Lineman

01

Main Campus= 01 (UR)

Lcvel-2 (19900-63200)

4.

Museum Cum Animal Keeper (Zoology)

01

Main Campus = 01 (UR)

SL3 (16900-53500)

5.

Section Cutter (Geology)

01

Main Campus =01 (UR)

SL3 (16900-53500)
Vacancies at S.No. 02 i.e -Junior Assistant is for Main Campus and Poonch campus, the candidate desirous to apply for both campuses are required to apply separately for the each campus. The post for the Poonch Campus is non- transferable and is exclusively for the campus concerned only.
Important Dates:
•
Opening of online Application Portal: 01.09.2021
•
Last date for submission of complete online application: 21st September, 2021
QUALIFICATIONS AND ELIGIBILITY CRITERIA:
1. Curator (Botany): M.Sc in the subject concerned with skill in the concerned trade
2. Junior Assistant: Graduate with a Computer typing speed of 40 words per minute.
3. Telephone Lineman: 10+2 with three years' experience as Telephone Operator with knowledge of maintenance of EPABX
4. Museum Cum Animal Keeper: Middle pass and Certificate Course from l.T.l or Middle pass with Skill in the Trade
5. Section Cutter: Middle Pass and Certificate Course from ITI OR Middle Passed with skill in the trade
Age Limit
:
Age as on 01/01/2021
Minimum for all candidates=18 years
Maximum for:
1. General Candidates= 40 years
2. Socially and Educationally backward classes viz. weak and under privileged classes OSC (other Social Caste) /SC/ST/ RBA/EWS (Economically weaker Section) /ALC/IB /PSP (Pahari Speaking people) candidates = 43 years
3. Physically challenged candidates= 42 years
4. Ex-Serviceman = 48 years
5. In case of candidates already in Government Service / Contractual employees = 40 years
Important Points:
1.
Application fee of Rs. 970/-
for the above mentioned posts has to be paid through the recruitment portal payment gateway. The fee once paid will not be refunded or re-adjusted under any circumstances.
2. Candidates who have successfully submitted their applications have to ensure that their name appears in the list which would be available after the last date of the advertisement on the website.
3. Candidates selected for appointment will be placed on probation for one or two years as per the recommendations of the selection committee.
4. Candidates selected for appointment will have to produce the original documents relating to their age. qualifications, experience etc., at the time of interview and/ or Trade test /skill test etc and also before joining the post to which they are appointed
5. The scheme of entrance examinations and syllabi for the above mentioned positions if otherwise required shall be notified separately and uploaded on the University website
6. For any help or support or system error during the submission of online application form, the candidates may approach the creation and recruitment section at e-mail or contact at 9419204665/9419187614
7. The list of shortlisted candidates will be uploaded on the University website
Share